Following recent success in the international wine competition where Spirit of Freedom was commended, it attained a bronze medal in the national UKVA competition on 26th June. Many thanks to the talented Halfpenny Green team who produced this lovely pink sparkling wine.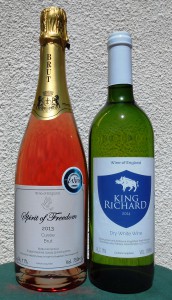 Feeling were elated when the silver medal results were perused. King Richard won a SILVER MEDAL. This was made completely on site in the winery at Kingfishers' Pool Vineyard by Liz and Matthew with occasional phone/email advice from Halfpenny Green.
Thanks go especially to our volunteers, without whom the picking and production of our wine would not be possible.