Rained all night. Ground too sodden for builders. Ahhh! I need this work finished. The Swithland Church Mens Group visit (orininally Monday) has been postponed.
I have busied myself in delivering more wine to David Norths delicatessen up the road. This is their third delivery of Fearless in one week. Apparently Fearless is the number one choice of present for Fathers Day.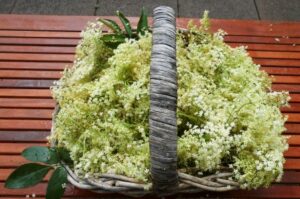 Then I took advantage of a break in the rain to pick elderflowers. De-stemming them is going to take me about 18 hours. Well, I had better get started….