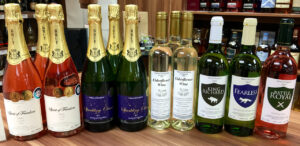 ALERT – Our rothleywine@btinternet.com email was hacked from 4-6 March and again 11 May 2017. Please treat any emails from rothleywine@btinternet.com during those periods with extreme caution. Furthermore we experience "vanishing email" syndrome. If we have not replied to your email please contact us again on kp.vineyard@btinternet.com.
We are re-branding ourselves as Rothley Wine Estate. Kingfishers' Pool vineyard was getting confused with hot tub companies!!! Kingfishers' Pool still exists, as does Rothley Wine Ltd, but the new name allows us to be more specific to our geography. We are keeping the kingfisher logo.
The two acre vineyard (0.3 hectare under vine) is located in the village of Rothley. http://www.leicestershirevillages.com/rothley/  between the Rothley Court Hotel and the steam railway station.The boutique winery installed new equipment to ensure quality production and comply with relevant standards. We can accommodate small groups of up to eight in our conservatory tasting room.
We are getting known in English wine circles, see http://greatbritishwine.com/wineries/rothley-wine-estate/ and in Niche magazine on
There has been much local interest. Radio Leicester have done 4 interviews. http://www.bbc.co.uk/programmes/p031c1cs  http://www.bbc.co.uk/programmes/p025z84b http://www.bbc.co.uk/programmes/p0390lgh
Review by Leicestershire wine blogger Laura Hadland http://extremehousewife.blogspot.co.uk/2017/03/leicester-food.html http://extremehousewife.blogspot.co.uk/2015/06/english-wine-rothley-wine.html#comment-form
Account of 2015 harvest by Brigg Ferrier of Geo Hill Ltd http://www.georgehill.co.uk/frame-home.htm 

The Leicester Mercury ran an half page article on 4th July 2015  http://www.leicestermercury.co.uk/Leicester-vineyard-wins-national-awards-wines/story-26821438-detail/story.html  and the Loughborough Echo soon after http://www.loughboroughecho.net/news/local-news/vineyard-scoops-two-national-accolades-9831728?utm_content=buffer9bcc2&utm_medium=social&utm_source=twitter.com&utm_campaign=buffer 
De Montfort University featured us and our volunteers on our website http://www.dmu.ac.uk/about-dmu/news/2015/july/awards-success-for-liz-and-her-bunch-of-dmu-grape-crushers.aspx 
and view back copies of the Rothley Post:
http://issuu.com/birstallpost/docs/rp14_11_109 (page 3)
http://issuu.com/birstallpost/docs/rp12_11_097
http://issuu.com/birstallpost/docs/rp13_11_103
http://issuu.com/birstallpost/docs/rp911111web