Group Festive Wine Tour & Tasting – 28/12/21 1.30pm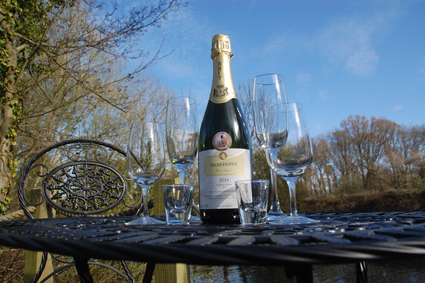 Event Date:
December 28, 2021
Event Location:
Rothley Wine Estate
Tuesday 28th December 2021 – 1.30pm
While winter is in the air and the nights are long, we are keeping this year's festive tour & tasting sessions limited in number. To keep you warm and be mindful of Covid, we are also booking for groups only so you can use our small tasting room safely. Up to 9 people can enjoy a welcome drink followed by a guided tour of our winery and vineyard.
An accessible route is available that is suitable for people with mobility issues, but the vineyard is a rural location so please come dressed for the outdoors, wearing appropriate footwear.
After your tour, settle into our bijoux tasting room for a wine tasting session led by local food & drink writer and trained wine expert Laura Hadland. You will learn how to taste and pick up some handy tips for pairing food with wine.
After the tasting, there will be time to pick up a couple of bottles of wine to take home ready for Christmas – cash and cards are accepted. You can also choose to book a group ticket that includes a bottle of sparkling wine and a 500ml bottle of fruit wine for the organiser to take home.
When arriving at the vineyard, parking is available in the side paddock. Look out for small signs saying "vineyard event" at the turn-in on Westfield Lane. If the field is too wet, we will bring guests in to park in front of the winery instead.
Your group of 9 guests can include under 18s, but of course, the welcome drink and wine tasting samples will not be available to anybody that is underage. We operate a Challenge 25 policy, please be prepared to show ID if you are lucky enough to look under 25 years old. Well behaved dogs are also welcome to join you on your visit. Please drop us a line in advance so that we can keep the vineyard chickens confined to barracks during your visit!
Tickets are non-refundable and non-exchangeable under any circumstances, so please make sure that you have selected the correct date and time before you proceed with payment. Should the event need to be cancelled for any reason, we will offer an alternative date or a refund minus any payment processing fees that have already been paid.
Register Now: