Visitors welcome by appointment. Our new conservatory is suitable for small groups of up to eight, and is wheelchair friendly. Wine tasting and purchase is only available to those over the age of 18 years, but accompanied children are welcome to join in the vineyard tour. Well behaved dogs on leads are also welcome, but please arrange this in advance so we can confine the hens to their run.
There are three options: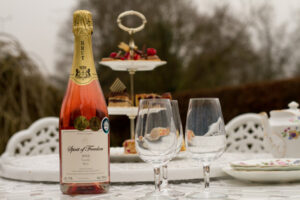 A) Contact us to pop over, stroll around the vineyard, meet the hens, then buy some wine (without a tasting)
B) Arrange a small group of up to eight friends for a full vineyard tour and wine tasting either outside or in the conservatory. You buy the wine for the tasting, and price depends upon the number of bottles required. You are very welcome to bring your own picnic, as wine tastings go well if spaced with food! We will provide cutlery and crockery. Day and time to be mutually convenient.
C) Book onto a tour and tasting with Thirst Media at £12.50 per person. These run monthly on Saturdays, and suit those wanting to come individually or in couples. Visit  to book a visit is here: Vineyard tour and tasting Rothley Wine Estate Leicester | DesignMyNight or via Thirst media https://www.facebook.com/thirstmedia/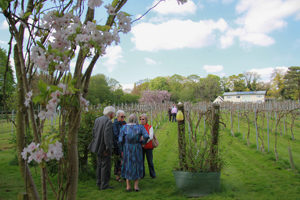 Please contact us by email rothleywine@btinternet.com or phone 0116 2375168 to discuss further.
If you want to stay nearby, the local options are:
See the history page for other nice places to visit while you are in the area.