Valentine Special – Sunday 11th February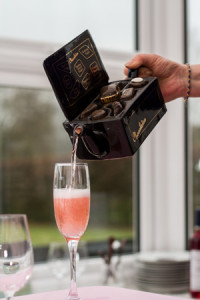 Tickets for our chocolate and wine pairing, with tour of the vineyard and winery are available at https://www.designmynight.com/leicester/whats-on/pop-up/valentines-vineyard-tour-with-chocolate-and-wine-pairing?t=tickets
Grand Opening of the Accessible Route and Facilities on 23rd April.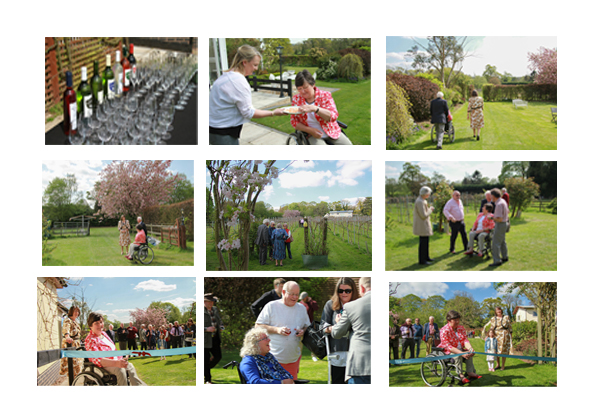 About 50 people attended the opening of the wheelchair route, accessible toilet, and conservatory tasting room with the renowned wine educator, Sue Lobb Dip.WSET, snipping a ribbon. Then she wheeled down the garden to snip a second ribbon into the vineyard where a special route around the upper vineyard allows wheelchair and mobility scooter users to get close to the vines. The lovely sunny weather and dry soil allowed the wheelchair users present to go "off piste" and view more. Everyone enjoyed canape and sampling the range of wines including the King Richard 2016 which is awaiting his PDO accreditation. (PDO is the equivalent of the French Apellation Controlee) Radio Leicester, the Leicester Mercury and three local magazines had staff present, so we will look out for articles in the near future. Liz and Matthew wish to thank the volunteers who so cheerfully helped keep the canape and wineflowing, especially Laura Hadland, Lisa Smith and Raj Patel.
Thirst Media on 15th April 2017 held their very first wine tasting at the vineyard. This scheme allows people to buy tickets individually or to give vouchers as a present.  Liz led two tours and Laura Hadland led the wine tastings on this sunny Saturday afternoon, and everyone had a great time. We are really looking forward to the next Thirst Media event here on Saturday 13th May.
Friends Of Charnwood Forest on 20th March 2017. See photo of the tables being prepared.
 I went to a packed village hall in Woodhouse Eaves to give a presentation with small wine tasting. Really nice people belong to this worthwhile organisation and I got home so late because the audience of around 80 had so many questions. See the write up on their website http://focf.org.uk/events.html
South Lodge Nursing Home on 14th March 2017. A select group of residents listened with rapt attention to my talk. What a lovely place and the staff were noticeably kind and caring.
BBC building in Leicester on 4th March. Laura Hadland joined me for this memorable day at the BBC. We had a stand and gave out samples. We were in good company with other stands promoting food, and we had a lunch comprised of a few bits from each stand. We went home with very full tummies.
WI Thurcaston on 2nd March 2017. A wonderful evening at Thurcaston Village Hall with the dynamic ladies from the WI. After a rousing singing of Jerusalem, the meeting got under way then I did my presentation. There were so many questions as the members were fascinated that there was a vineyard just one mile away!
BBC Radio Leicester on 1st March 2017 at 11.10hr. My interview with Ben Jackson was on air for ten minutes. It was a really nice experience. Ben is so good natured that I forget he had a microphone in hand and that people would listen to me. Eeek! Must find the iplayer link.
Gelato Village on 28 February 2017. A great time at Gelato Village in St Martin's Square Leicester, pairing our wines with the lovely gelato. The taste pairing was led by the equally lovely Laura Hadland from Thirst Media. Interesting to note the emphasis Gelato Village put on loyalty, especially in relation to LCFC. See photo.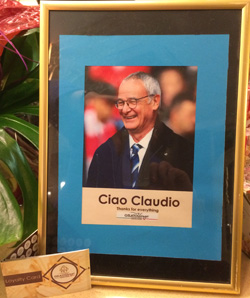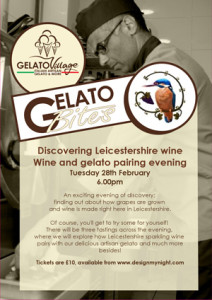 Lots of events over the summer, meeting wonderful people. Details and photos to follow
Presentation with sample of wine to the NHS Retirement Fellowship
After the presentation there were many memories shared as we mentioned former colleagues whilst the wine was sampled.
Surprise Birthday Tour'n'Tasting for Cath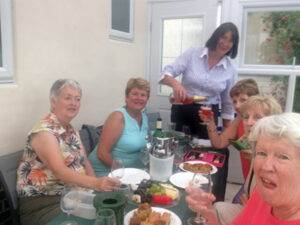 Cath has wonderful friends, especially Jean and Maria who arranged a surprise outing in early August. This comprised a trip to the vineyard for a tour followed by a wine tasting in the new conservatory. They has all been busy baking some lovely food, which accompanied the wine exceptionally well.
Liz tried to conduct the serious business of wine tasting in an equally serious manner – but we all dissolved into hoots of laughter. Everyone had a very merry time. If only all birthdays could be like this.
Rotaty Club – Charnwood/Loughborough
A shorter journey this time to the Longcliffe Golf Club to meet the members of the friendly rotary club. My little projector struggled to cope with the competing light, but the presentation was readable. Members listened with rapt attention and then sampled three wines with unbridled enthusiasm. They accompanied the delicious lunch well. Thank you to Peter Wood for organising this.
Women's Institute – Swannington
A journey to Swannington village hall on 4th July resulted in meeting 33 lovely members of the local WI. A powerpoint presentation was done in the cosy meeting room, and then samples were tried with the utmost enthusiasm! It is always a pleasure to visit the WI and the positive and vibrant atmosphere experienced in every one so far is almost infectious. Long may you continue with your supportive work WI.
Pamper Evening at Rothley Primary School 
A splendid pamper evening was held in aid of the Warner brothers wish to walk on 1st July. This highly deserving charity is raising money for the twins to have an operation at Great Ormond Street Children's Hospital to enable them to walk. http://just4children.org/children-helped-2016/the-warner-brothers-wish-to-walk/
I was ably assisted by The Extreme Housewife, and we were proud to have a stall there and hand out samples of our wines, and to donate raffle prizes. https://www.facebook.com/TheWarnerBrothersWishToWalk/?fref=ts It was a tremendous evening, with happy atmosphere. Everyone who sampled our wines were fascinated by them. There are some great photos on the Warner brothers facebook page https://www.facebook.com/photo.php?fbid=10157219119720604&set=pcb.1649776602012715&type=3&theater
Rothley Church Youth Group
See the blog for information. The elderflower wine that the young people made on 9th June is fermenting away slowly.
Barbara Morphy's Wine Tasting Evening
Barbara Morfey arranged a small group wine tasting on 1st June and brought a picnic! As the dark clouds rolled over thoughts of a wine tasting
evening on the terrace were abandoned in favour of sitting in the winery. A bit of a tight squeeze, but the atmosphere was terrific. We tried all the wines then drank a toast to the birthday girl, Gill, and finished off with a loyal toast to the Queen.